So, my wine of the week this week is Terroir Sense Fronteres – Brisat 2017
Winery : Terroir Sense Fronteres
Where : Monsant
To understand DO Montsant one needs to be intimately familiar with its geography, as confusion comes easy here.  To be clear, both D.O. Montsant and D.O.Q. Priorat are located within the political region of Priorat (demarcated by the dotted line on the map). Additionally true, D.O. Montsant forms a perfect ¨C¨ around D.O.Q. Priorat (area in white), thereby making the two inseparable in conversation if we are understand the region in its totality. Serra de Montsant, a major mountain chain running from the NE through the NW of both wine appellations is also a source of confusion, as it is a major player in craft wines of both regions.
A very unique and differentiating characteristic of Montsant is its smorgasbord of soil types, altitudes and climates. Unlike DOQ Priorat, with its famous slate soils, DO Montsant primarily consists of lime clay soils throughout the region, with a spattering of sandy granite in the south and lime and granite in the north, along with odd batches of slate in between.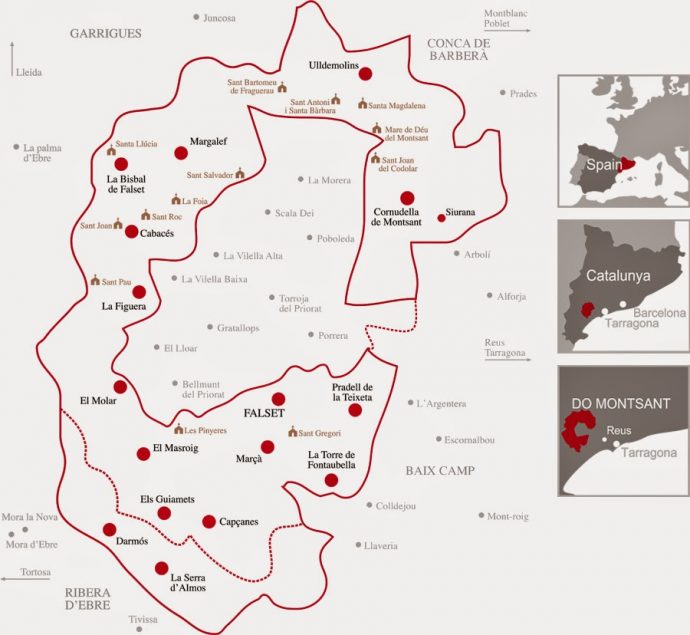 The grapes : 75% Grenache Blanc and 25% Macabeo,
Grenache Blanc (Garnacha Blanca in Spain) is the light-skinned mutation of Grenache Noir. It is native to northern Spain.  The light-golden, straw-colored juice of Grenache Blanc is increasingly produced as a varietal wine, though its use as a softener in a blend is still more common. It typically displays green-apple and stonefruit aromas and a fat texture. However it is considered to be very sensitive to terroir so can show considerable variation. Extra care is needed to avoid oxidation.
Macabeo (or Viura in Rioja) is a white wine grape used on either side of the Pyrenees, in the north and east of Spain and the southernmost reaches of France.   The wines can be fresh, floral and aromatic when harvested sufficiently early and aged in stainless steel, but weighty, honeyed and nutty when aged in oak and harvested slightly later.
Spain is unquestionably Macabeo's homeland, most obviously the northern regions. It is the principal ingredient in white wines from Rioja, where the locals call it Viura.
How is this wine made : harvested from vines growing in clay and sandy soils in the valleys of the DO Montsant. In a typically Burgundian style, the grapes are fermented in whole clusters, without first being destemmed and using exclusively native yeasts that appear naturally on the fruit. They are then left to macerate on skins for two weeks, resulting in something similar to an orange wine, with plenty color, tannin and character.
The wine is aged in stainless steel vats for a period of 6 months. The lack of oak used in the aging process allows the distinctive Mediterranean characteristics of the Montsant terroir to shine through.
Terminology : Brisat – Grapes are fermented and macerated with the skins, the stems and the seeds. This old local technique results in what in Catalan is called a "brisat" white wine
Soil type : Clay and sandy soil
How does this wine taste to me : Almost orange! Well textured wine with notes of nuts, dried herbs and apricots.  Hints of oxidation, almost sherry like.
The Label : Classic straightforward and clear