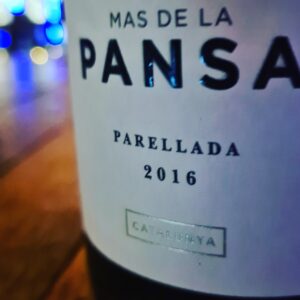 If you fancy trying something a little unusual, I can thoroughly recommend this Parellada we are serving @thewineparlour from Mas De La Pansa winery in Vila Rodona , 2016 Vintage.  Parellada is perhaps more recognised for its use in a blend of grapes used to make Cava, but it also has the capacity to make a beautiful still wine with refreshing acidity, citrus and saline characteristics to enjoy.
For those of us working up to the WSET Diploma exams in May, here's another tasting note.  As usual any / all feedback is gratefully received
On the eye, pale gold (that's right, this wine goes beyond lemon in colour)
On the nose, medium plus intensity, with aromas of blossom, honeysuckle, bruised apple, grape, lemon, lime, nectarine, apricot, white pepper, olive brine, almond, hazelnut and a hint of petrol
On the palate, the wine is dry, with medium plus acidity, medium alcohol, medium plus body, medium plus flavour intensity with flavours as per the nose, with a long finish.
This wine is outstanding quality.  The balance between refreshing acidity, flavour profile, and alcohol is perfect.  The alcohol is integrated neatly into the wine's acidity and is barely noticeable.  The wine has great complexity with floral, green and citrus flavours to enjoy.  The wine has good body and structure with a hint of petrol, almond and hazelnut coming through as tertiary flavours.  The finish is long and maintains the bruised apple and olive brine notes particularly well.  Delicious!
A little bit more about this wine.  These grapes are old bush vines planted in 1958.  These low yielding, yet richly concentrated grapes are at 312 metre altitude.  This gives the grapes the perfect combination of fruit concentration and acidity which are provided by the longer growing season.  Harvesting is by hand, at night in small 20kg boxes to avoid any unwanted damage to the grapes.  The grapes are sorted by hand, and again any grapes that are not in perfect condition will be disregarded.  The bunches of grapes are destemmed and placed into a steel tank at low temperature, around 10 degrees Celsius. The grapes naturally begin to crush and release their juice, but this is an extremely slow and gentle process to maximise flavour extraction managed over two days.  It contributes the deeper golden colour and saline notes to the wine.  The juice is decanted from the tank and fermentation will begin.  After fermentation is complete, the wine is split into two parts with one part being stored for four weeks in new French oak barrels.  All the wine will have six months lees aging before bottling which gives the wine the hint of petrol and depth in body we can feel.