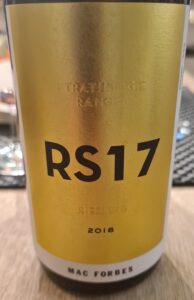 This is one of a range of Riesling wines from Mac Forbes that have been developed to showcase the value of terroir, aspect, and altitude.  They illustrate how with Riesling the balance between sugar and acidity are essential in developing the wines final style and flavour profile.  This wine is made from a blend of grapes coming from two vineyards.
VINEYARD Town: Caveat
Region: Strathbogie Ranges
Planted: 1983, 5 Acres
Aspect: East
Soils: Granitic
Altitude: 600m
VINEYARD Town: Upton Hill
Region: Strathbogie Ranges
Planted: 2005
Aspect: North West
Soils: Decomposed granitic with pink quartz
Altitude: 530m
As you can see, it's the same grape at places not too far apart from one another.  Yet the aspect is different which will affect how much sun the grapes get, when during the day, and therefore its intensity on the grapes.  The altitudes are different and the grapes at higher altitude can take longer to ripen and have a better sugar/acidity balance, whereas the grapes at the slightly lower altitude could make a more full-bodied wine.  The soil is different which will affect drainage, nutrient uptake, and heat retention during the growing season.
This wine is made from hand harvested grapes which are de-stemmed and then crushed before pressing takes place to provide the juice.  Fermentation is not to dry and is stopped when there are just 17g / litre of sugar left in the tank.  The wine is matured in stainless steel vats that allow only the lees (dead yeast cells) to break down and offer more body and flavour complexity to the wine. Before bottling the wine is unfined but sterile filtered to maintain taste and produce a clean finish.
Here's my tasting note for this wine
On the eye, pale lemon.
On the nose, pronounced, with aromas of apple, pear, lemon, yellow unripe apple, apricot, nectarine, pineapple, grass, tomato leaf, dried herbs, dill, bread dough, yoghurt, cream and petrol
On the palate, the wine is dry with, high acidity, low alcohol, medium plus body and flavour intensity with flavours matching aromas found on the nose.  The finish is long.
This wine is outstanding quality.  It has an array of complex aromas and flavours to excite the drinker.  These show great typicity and showcase Riesling extremely well.  There is plenty of intensity to the wine due to the hint of residual sugar and less aging components working hand in hand.  The acidity is very high, yet completely integrated with the wine's flavours.  The alcohol level is low and unnoticeable.  Overall, these elements give the wine perfect balance.  The wine has a long and evolving finish reminding the drinker of the pronounced aromas on the nose.  A joy to taste!