Calling a Chardonnay or Chenin Blanc blind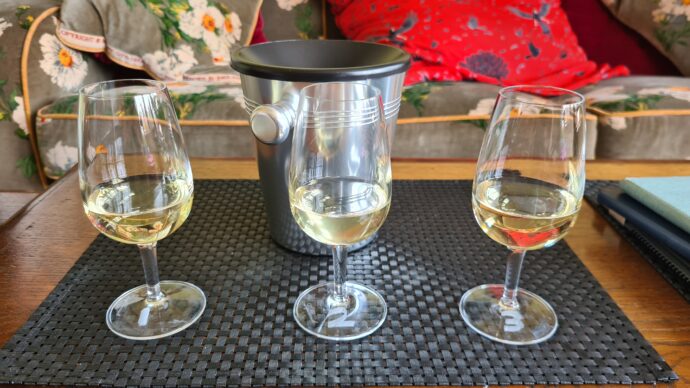 This week I have been homing in on these two grape varieties.  At first smell and taste they can appear very similar, but for those extra WSET marks in a tasting exam, you need to be able to pull them apart and correctly recognise their characteristics.
I've been working with a selection of Chardonnay and Chenin Blanc wines at mid price from the local supermarket.  I think these show good typicity and are pretty mainstream examples. It's less about the quality of the wine and more about the profile – but I would rate all these wines probably as very good quality.
Chenin Blanc has very high acidity, medium alcohol.  The number one first flavour I get on the pallet is lemon, then tropical fruits of banana, melon, pineapple. then pear
Chardonnay still has high acidity, but is lower relative to Chenin blanc, but higher in alcohol.  The relationship between the alcohol and acidity levels is telling for me.  On the pallet the difference I am finding is the upfront first flavour of apple, then followed by more citrus notes of lemon, limes, grapefruit, and then stone fruits of apricot and nectarine
The flavour profile of Chenin Blanc can vary widely between South Africa and Vouvray, but I still find that lemon versus apple a key way of determining the grape variety
So, if I am confused as to whether this wine could be Chardonnay or could be Chenin Blanc, I need to ask myself 1) is the acidity level and alcohol level quite similar (yes, more likely to be Chardonnay, less likely to be Chenin Blanc with high high acidity and only medium alcohol) 2) is it lemon or is it apple I find first (apple should confirm Chardonnay, lemon should confirm Chenin Blanc)
Trackback URL: http://wineislife.getcomfortable.co.uk/wp-trackback.php?p=220